We first met Angelina Fadda of Italian Flavours when we visited Sardinia several years ago. It was one of our first trips to Italy and what a wonderful introduction it was. While only there for a few days, we explored the rich history and culture of Sardinia, enjoyed some of the wonderful Sardinian culinary traditions, lunched with shepherds and sailed and swam in the beautiful clear waters. Angelina's enthusiasm and passion were infectious and we knew then that we would definitely return to continue our experience of the real Italy with Angelina. Since then, we have toured with Angelina annually, exploring Puglia, Basilicata, Fruili and the Veneto regions. In late 2019 we again joined Angelina on a tour of beautiful Sardinia and, as always, we were touched by the traditions, the authenticity and warmth of the people.
Our tour started in the little village of Gergei, a small gem that truly captures the essence of Sardinia. The traditional stone cottages and shepherds herding their sheep through the village in the late afternoons were a perfect backdrop to the local customs still kept alive by people like the wonderful Zia Marisa who welcomed us into her home and shared with us the art of making fregola, a traditional Sardinian pasta.
Our accommodation was another of Gergei's lesser-known treasures, a charming little rustic cottage that had once been the home and studio of the artist, Mario Cesare.  The small cottage, nestled in a beautiful garden, is still filled with his artwork and personal possessions. After settling in at our cottage, we wandered through the little streets to Domu Antiga, the beautiful family–run boutique accommodation in the heart of Gergei where the pride and willingness to share treasured traditions was again extended to us by our hosts, Giulia and her family.  They were so gracious and welcoming and we felt like members of the family when Giulia and her mother invited us into their kitchen to show us how to prepare some of the many Sardinian culinary specialities.
Another highlight was the morning we spent literally immersed in the time-honoured art of making fresh ricotta with warm sheep's milk that had just been collected that morning. There was something so calming in the patient stirring of the milk, pressing the curds through the whey with our hands and patting it into the traditional wicker moulds.
How special it was to then be able to enjoy it for breakfast the next morning in our little cottage garden.
Sardinia has a rich historical and cultural heritage and travelling around the island it was wonderful to see that so many of its traditions are still so highly valued and celebrated.
Festivals like  the renowned religious festival in Cabras play an important role in Sardinia's cultural life and we were so lucky to join in the festivities.  This annual event starts with the barefoot middle-aged men, youths and boys of the village parading the effigy of their patron saint at shoulder height through the morning light, all dressed in the white tunics of penitents. That is until the starting signal sounds and  then they are off!  How exciting it was to follow as some 600 men, youths and boys raced through the open fields to finish with a service in the crowded church of a nearby village 7 kilometres away.

This wonderful heritage is also preserved by the passion and skills of Sardinia's traditional artisans like the  coppersmith, Luigi Pitzalis.  On a visit to his workshop we were fascinated as he painstakingly worked the metal on his wooden pommel, skilfully  hammering and transforming flat copper discs into beautiful traditional cookware.  Watching him work it was easy to leave the rush of today's world outside  and imagine an earlier time of artisans and practical artistry.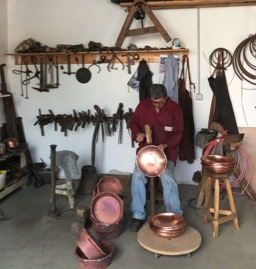 Sardinia's culinary traditions are also artworks in themselves and we saw this on a visit to the artisanal bakery of the pastry master Roberto Murgia in Alghero.  It is difficult to believe that what looks at first sight to be intricate lace is actually edible sugar and pastry carefully crafted by Roberto's own hands. They are truly culinary masterpieces.

While there, we were welcomed by Roberto into his workshop for a private cooking class and left laden with some of his delicacies to enjoy.
Our Sardinian adventure then took us to the beautiful Costa Smeralda where we continued to enjoy the warmth and hospitality of the Sardinian people. Boutique accommodation, visits to wineries, cooking classes, gourmet dinners and lazy days sailing the beautiful clear waters were the perfect ending to a wonderful holiday.
We will return!